DERWENT PASTEL PENCILS
Origin: England
Colors: 72
Size: 5/16" x 7"
DERWENT COLOR CHART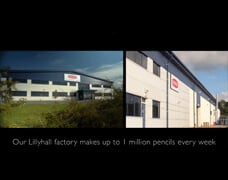 Derwent Factory Video
In 2010 Derwent re-formulated their pastel pencil. The new formulation features a softer texture for easier transfer to paper and better blending. The pastel 4mm lead is naturally water-soluble. There are 72 unique colors that represent a balanced color range (the previous formulation had pure colors and tints).
The beauty of fine grade pastel within a pencil:
Chalky, powder-based, water-soluble pastel core.
Add water to create light washes.
Suitable for blending, layering and erasing.
Create fine detail with minimal dusting.
72 degrees in the range.
87% Lightfast (Lightfast, colors remain the same for 100 years under museum conditions).